A hat pin is a very long pin that was created to hold a lady's hat in place. A hatpin is similar to a stickpin in that one end is pointed, and the other has a decorative end. We can embellish the decorative end with beads, gemstones, or just about any other design you can think of. The length of the pin itself is the main distinction between them. Stickpins are often shorter than hat pins. They sometimes measure less than twelve inches. Hat pins were typically 8 inches long, pointed, and had ornate heads when worn in pairs. The head, shank, and finding are the three different components of an actual hat pin. The decorative portion of the hat pin is known as the head. Many people call this head the ornament. The metal shaft that the head is mounted on is called a shank.
How are hatpins made?
These hat pins are of the highest caliber and are made of steel. These sturdy aluminum hat pins have a sharp tip that can pierce any hat's fabric and ensure that it stays in place. You can easily get them in White, Pearl, Silver, or Gold.
Customization of hatpins
Custom vintage hat pins are available at Pye Creative. You don't have to explore far to find other varieties. Some of the most well-liked varieties may include military hat pins and hat pins for music festivals. Various organizations and event organizers of all kinds may also produce their unique designs of pins. If you have an idea for your set of personalized pins, you may give us a call, and we can discuss how we can bring your concept to life.
We also specialize in handcrafting one-of-a-kind pins of any form and size imaginable. Similar to lapel pins, most people wear vintage hat pins on their heads. Some are used to adorn clothing, spread awareness for a worthwhile cause, or demonstrate support for a team or group. Depending on who the hat pins are for, the designs come in a variety of hues, sizes, and forms. However, most organizations create them with the goal of telling a narrative.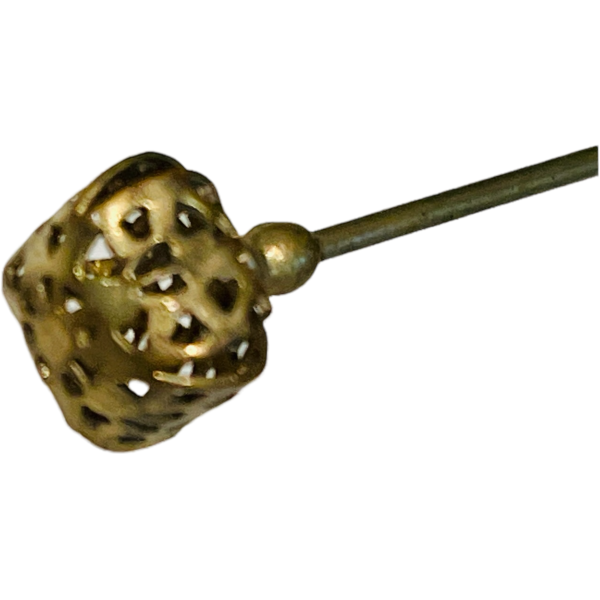 Vintage Edwardian Early 1900's Stick Pin - filigree box - gold tone, 3.25" long - stick pin/hat pin. It could be older - it has a brassy gold tone metal for the filigree box which is about 3/8" square. It is not signed. It came from a PA estate sale where items were from Victorian times through the 1970's. It has some finish wear and the pin isn't perfectly straight but for 100 years - it's still in good condition.